Overview
On some non-realistic pictures you have here quick access
These describe a bit the direction where I am currently moving. That means something geometric, somewhat surreal or abstract. And finding new design possibilities. But abstract is not only abstract. It's about space, time and appearance too. The matter deforms the space and the time, but visually, the colors apear before. This stuff should be a kind of visual signature, some emotional electro-magnetic signals converted into colors. After that, structures are in emerging.
Geometry is integrated everywhere, also into the life
And it needs space, makes work and is time consuming, but also can be funny. As well it's available independently, as an abstract representation. Finally the geometry it's not difficult to see, however often come straight lines and angles before. We only know about geometry what we have already interpreted. For example vibrating pattern in the thirth dimension. And the geometry adapts quickly in the right direction. Probably there is more geometry out there.
With surreal is meant, it could be fantastic, dreamlike but the same time it's not real … or maybe?
Where the light ends, there begins the form, if not a little before. Some steps are to overcome: theme and collage, then relief and light, pattern and texture, sometimes you fall in love… Eventually these are not conditions. More important for me is the passion of organizing and focussing on design and shapes.
About
Creation is incorporated in the material and vice versa
In short, it means thinking or remembering of something and then producing that. That is to say, each artist has ever tried to define creation at least for himself. Certainly that is a process. And the product is relative, it's mood and light depending. But also with the perspective and also with the background connected… Under circumstances, we think about art. And this is not interchangeable with the word "beauty". It's more feeling than consciousness. Everything is there in the room and we could take out when we're ready. Above all, creating is also understanding and at the same time, it means making visible what isn't immediately visible. Moreover creation is absolute when we speak about nature. Nature is my way.
Art is a companion and it is more past instead present
Art speaks for itself, it is unique when it has actually achieved self-confidence and is not in competition with neighboring art, it lives for itself. Or it produces a delay that you can not really influence. That's why, for me feeling like an artist, should be able to remember it as well. I do not really know if the technology or the philosophy plays a big role. I feel I need the both to come forward. When I see a new picture with the eyes of imagination, my statements stay as an idealistic hypothesis first… until an echo arises. In parallel we are talking about time. Time dominates us. We understand and want more than the time allows.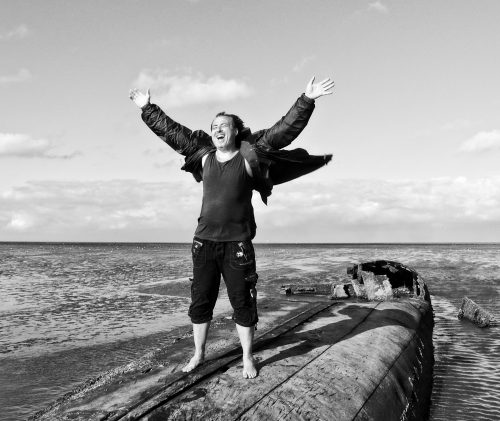 I think I could tell you something about me and what is in my mind
Some of my first questions in my perception are about light and energy. Mostly they are rational questions, as long as the creation has not penetrated the soul. Although my ideas presented here correspond to my philosophy. And they don't establish absolutely a direct dialogue to the physical reality. However, I tell you about things that happen to me. One of the most beautiful projects that I always miss – over a few years during my university days – has been the restoration of paintings and structures in some churches in Moldavia (RO). With a background in construction engineering, I became a self-taught concept artist. I am a dreamer of geometry and of colors and as a passionate photographer and co-worker on various web projects. I would like to show a few examples of my work here. I hope it may be the right time. But I like both online and print design with my passion being photo composing. Meanwhile, most of my artworks I keep ready in a high resolution. Very important for me here, I put a picture in front of it and only then try to explain it with text, even if only text is normally expected.
Creativity and Earth
Earth is the third planet from the Sun and probably one of the most creative. The Earth has just the right distance away from the Sun, for most of its water to remain liquid. And everything is suitable for life… and for creation. Such a comfortable match of the settings! But the terms like infinite and unlimited seem to get a new meaning. Definitely my wish is, we should protect our limited space, however if possible without oil disputes and weapons. We humans have to rediscover humanism and not fight ourselves. That is not just a wish but a premise that future generations will remember us positively. Unfortunately, due to current events, I will probably be forced to change the previous sentence about humanism. About my Phototography: Somehow i make it through, because i use rational method on irationall results search. I am also happy to photograph water or just to be near the sea. Other themes are nature in every form and especially sky and trees. I want to catch the smallest details with light and colors. Some of my photographs I show you in the album
Photography
.
But also the geometry and the numbers fascinate me to a great extent
In my early years, I have painted frescoes in the Moldavian churches or oil painting on canvas. For the moment I go in every imaginable direction, true to the motto, 'Adventure Design'. But the design and the textures play a big role. I search for patterns and models in the natural world. Many of my digital and painting works I have organised in the album
Creative
.
Since 20 years I do Web and Vector Grafics
In addition I am working for Frontend Development, Software Design, Animation, Social Media, Presentation, Corporate Design. I manufacture special and individual Images, Illustrations, Photography, Composings and more. As a feature of me, I belong to the photographer who photoshopped his work. Cinema 4d, blender, wordpress and Co. are still in use on the fringes. In any case, I can offer you my services alternatively on a freelance basis. From image creation to entire SEO campaigns. Professional, with statistics, analysis and conversion reports. Suggestions included. Or the complete page relaunch. Everything for moderate costs from one hand. Online sale is trending. Do not hesitate to ask me. Some examples of my projects I have managed in the
Portfolio
folder, this initially with limited access.
Last but not least
All digital? No, a bit mixed. But not to forget, in the beginning I painted everything by hand and I still do at the occasion. Either way, the aesthetic fulfillment plays an important role. And because the art is developing mostly far outside of the clichées of life and in according to its own logic. In other words, I see a proportional dependence between ambient and art not an imperative. More important is to experience the process of making art and the message of it. In conclusion the motivation. As well as the communication with the thinking of the universe. So you can see, I constructed the page on my inner thoughts. And I look forward to your feedback. My site exists since 2018. This seems to work well with Firefox and Chrome (about more as 80% browser share), I will also check other browsers when I have the opportunity. If something does not appear to work properly, please send me a
bug report
. At the moment the website is in a conceptual development and still in progress. I am currently doing a lot to make the site loading faster, although there are many pictures. Therefore please look in once again. So feel free to
contact me
to get something started!
Lower Case
Actually, I want to write honestly. If someone thinks based on my pictures that life has beautified me, they are wrong. I've worked for pennies, I've been a taxi driver or a bartender. But I have my hope in my pocket. If anyone knows a publisher who would like to read my memories or to publish my pictures with my poems together, please let me know.
Last Updated on 17/06/2022