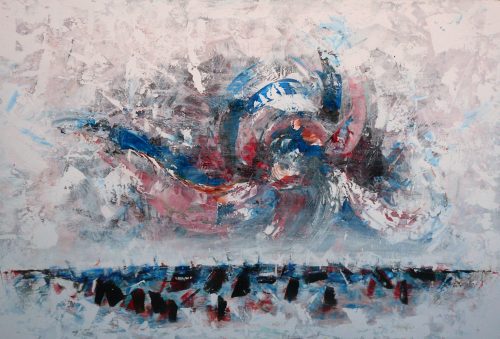 Time Outbreaking 2009
How about a bridge between past and future? Moreover to process the perception of the past, in his mental context was not easy. Because you exist only now. And what's future? The task was to connect the times.
Outbreak should be the meeting of different times in a kind of storm. During the work, I came up with the idea that it would actually be possible, through a tunnel where the time flows faster. I speculate in my painting on the manipulation of time, to get the goal. One stretch out of the time, allows me to observe more.
This work is very important to me. It tries illustrate a mental interface… That have been created in a difficult phase of my life. It is still hanging on my wall. This favorite wood-framed I will put the next here for sale. More details about: spatula painting with dispersion colors on fiber board. An original from 2009. Ca. 100 x 70 x 3.8 cm.
If you want to buy this original picture or have interest to know more about, please click one of the links below:
Time Outbreaking by fineartamerica
Or here as metal poster:
Orientation Twirl by displate.com
Last Updated on 14/01/2021